References
2018
TITAN GROUP – Cementarnica USJE AD Skopje (North Macedonia) booked our seminar. Approximately, 30 highly interested attendances joint the 2-days-workshop and were satisfied from the total overview and practical insides regarding waste, pre-processing and sustainable use of quality assured alternative solid fuels.

In cooperation with the Technical University of Braunschweig, training documents on "Production and processing of waste-derived alternative fuels for a sustainable use in the cement industry" were prepared for various Brazilian customers such as CETESB Companhia Ambiental do Estado de Sao Paulo or ABRELPE – Asscociacao Brasileira De Empresas de Limpeza Publica e Residuos Especiais. The documents were developed as a lecture and for self-study.

EEW/ Göppingen (Germany) Determination and evaluation of the sources of differences in the mass balancing of a WtE plant.

Experts statement regarding the situation of the ban of coal combustion and the linked market of the production and use of fly ashes and slag in cement and concrete in Germany.

Long-term contract with an innovative hardware supplier of the cement industry for inhouse consultations inclusive training in waste management, waste pre-processing and AF exploitation. Critical review of internal and external hard ware for material handling and co-processing.

Long-term contract with a European listed waste management company to develop integrated waste management services and strategies across the Group, in the CEE and with the focus on Ukraine and the Czech Republic.
2017
Long-term contract with a listed waste management company to develop waste management and recycling activities in Central Eastern European countries.

Long-term contract with a family owned and innovative equipment supplier to support its new engineering and sales team activities on the sector of waste pre-processing and co-processing.

Among others we gave statements, experts reports and realized our 2-days-cours with insights "From Waste to Flame – How to get the overview and to succeed in your AFR-projects"
2016
Gesellschaft für Internationale Zusammenarbeit GIZ (Morocco) and Green Climate Found GCF (UN): Feasibility Study of Pre-processing of Municipal Solid Waste and its potential for co-processing.

Serbian Government: Workshop with delegates of Serbian Minstries and Authorities in Capacity Building for Waste and Resource Management (EU accession Chapter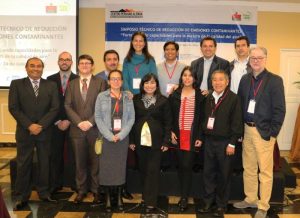 2016
GIZ (Peru) and Environmental Ministry of Peru: Capacity building for improvement of air quality. This symposium was carried out with the support of the Peruvian German Chamber of Commerce and the GIZ. It focussed on the sectors of mining, cement production, lime production, production of chlorine-alkali, power plants as well as the advising the authorities to develop a strategy for air pollution control
2015 – 2016
BEUMER/ Germany: Long-term contract on basic education for pre-processing, materials handling and co-processing of AFR. The initial on-site consultations included assessment of the client's technical portfolio, basic training in waste management, waste pre-processing and the effects on the quality of the AF produced, and the impact on later material handling and co-processing. Based on this preliminary work the client started to develop solutions for their future product portfolio.
2015
Grupa Ozarow S.A. (CRH) and LEKARO (Poland): Technical comparison of dryer systems and recommendations for correct material management
2014 – 2015
TerraMelhor Ltda (Brazil): Waste assessment, development of technical concepts, critical review and design of MBT plants in the greater area of Sao Paulo
2013
GIZ (Morocco): Challenges and needs for a thriving economy using the example of Morocco
2012 – 2015
GIZ (Morocco): Converting waste to energy in the cement industry. Disposal of municipal and industrial waste in Morocco is exemplified by major deficiencies such as a lack of a proper infrastructure and funding. Waste, including hazardous and municipal solid waste is disposed of in uncontrolled dumps with the associated effects on health and the environment. At the same time, the uncontrolled methane emission from illegal dumping as well as CO2 released from burning primary fuels will be significantly reduced. In the region of Casablanca alone, more than 3,000 tons of MSW are generated each day. The government of Morocco supported by the GIZ and WhiteLabel, developed national legislation for waste management, recycling and co-processing.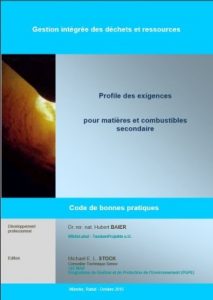 2007 – 2015
GIZ (Morocco): Code de bonnes pratiques – Profile des exigences pour matières et combustibles secondaires. This lighthouse project was initiated by the GIZ Morocco in 2007 to establish a reliable system for sustainable waste management until co-processing. All steps from waste assessment, pre-processing, technical assessement at the pyroprocess until its final use of RDF at the calciner is documented step by step.
2011
GIZ (Morocco): Gestion intégrée des déchets industriels et dangereux. Project development with GIZ to identify feasible waste streams, their composition and pre-processing for appropriate co-processing
2009 – 2010
Weston AL (Australia) and Department of Environment, Climate Change and Water (Australia – NSW): 1. Australasian Industrial Ecology Conference sharing European positive and negative experience in waste and disposal management to avoid wasting money by copy-paste.
2009 – 2010
MED-EMIP (MENA) and GIZ (Germany): Sustainable use of Oil Shale – Technical options and legal frameworks. The use of technologies, as well as establishing legal framework in order to define environmental requirements are the focal points in considering the reliable use of oil shale. Also under discussion were various options for the launch of the Oil Shale Cooperation Centre (OSCC) in Amman.
2008
Technical University of Athens (Greece): Experience with domestic waste treatment for co-processing. Capacity building on waste and energy concepts.
2005
North Rhine Westphalian State Ministry for environment and nature protection, agriculture and consumer protection: Co-author in the working group for the Guideline for energy recovery of waste in cement, lime, and power plants in North Rhine-Westphalia.
2003 – 2007
ECOWEST Entsorgungsverbund Westfalen GmbH (Germany): Re-design of the MBT facility supplied by a well-known supplier. Only after this successful reconstruction and commissioning the quality of the pre-processing and the resulting alternative fuels became suitable for the local cement industry and coal fired power plants and fulfilled the needs of sanitary landfilling (especially after the TASi ban of landfilling in 2005).

As one of the first German MBT's ECOWEST was awarded 2006 with the Sign of Quality Assurance RAL No. 724 in accordance to the requirements of air-pollution control, reliable process and its standards to product quality.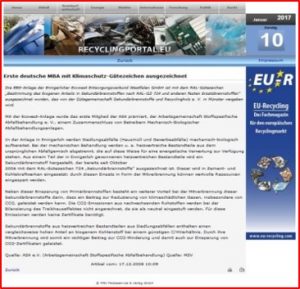 2003 – 2009
GFF AG (Switzerland): Identification of waste and localisation for co-processing in Ukraine
2000 – 2003
PDV Software (Germany): Development of a software for data compilation, quality monitoring, license and purchase management of AFR
1990 – 1993
RWE AG (Germany): Development of multiple-barrier-systems including heavy metal immobilisation for monolithic sanitary land filling and in-situ-remediation
1987 – 1991
Holderbank (aka HOLCIM) (Swiss): Development of high-early-strength OPC (MPa100) and its first approach for a companywide AFR-strategy.
1987 – 1990
RWE AG (Germany): Investigation about crystallisation disturbances affecting the wet flue-gas-desulphurization at a lignite-fired power plant, production, processing and utilization of FGD-gypsum.